Fortune Teller Games

At Occult Games we showcase some of our most popular fortune teller games from which you can explore the numerology of your name, get a free, online tarot card reading and, of course, ask questions about your future and fortune using our online Ouija board. While here, ask the crystal ball a question above but make sure its a yes or no question ... although you may not get a yes or no answer if your question is not clear. Crystal gazing itself is a form of skrying in which a medium stares fixedly into a crystal ball. The first impressions may be hazy but according to many mediumistic accounts this effect clears away and specific visionary scenes then present themselves. Occultists believe the crystal ball is a focus for the medium's psychic perception and that the crystal ball does not, in itself, cause the visions to appear. In history the crystal ball has never really been a tool for providing images or insights into the future, more a technique for a medium to use to focus their thoughts with clarity. To ask the crystal ball, simply type in your question. The fortune teller will then gaze into the ball and provide your answer.
---
Fortune Teller Games: Numerology Reading



This online numerology reading tool will predict your personality, life path, attitude, soul and destiny based on your name and date of birth as numerologists believe there is a connection between the two that reveals much about who you are as a person and what your future holds.
---
---
Fortune Teller Games: Daily Horoscope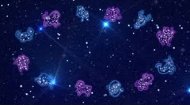 It is perhaps easy to understand why horoscopes have such a hold on the human psyche, because for centuries mankind has looked to the heavens and used the stars for navigation and their positions to know when to plant crops. Now you get get you free daily horoscope here.
---