Movie Based Horror Games

Although there are many horror games to play online, there are not many movie based horror games, that is, games that have been released to promote or coincide with the release of a horror based movie. The ones that do exist, however, are in the main, well worth a look especially atmospheric movie based horror based games such as Saw IV. Others such as the Cube and Resident Evil are good takes on the original movies whilst others, well, they are somewhat lacking! Here we present some of the very best movie based horror games online. After you've played them, check out and play our other scary games ... if you dare.... then make sure you visit our online Ouija board.
---
Movie Based Horror Games: Saw IV



Okay, until Saw IV you thought the evil Jigsaw was dead but then along came Daniel Rigg, a SWAT officer who first appeared in SAW II and helped apprehend Jigsaw. This SAW IV game puts Rigg through four trials to force him to give up on always trying to save others.
---
Movie Based Horror Games: The Cube



In this game you wake up in a cube-shaped room that has a hatch in each wall, the floor and the ceiling. You need to escape from the Cube without setting off the wire grill that will kill you instantly. Make wise choices or die!
---
Movie Based Horror Games: Child's Play



Not one of the best movie based horror games but still some murderous fun for Child's Play movie fans and releaswed to promote the movie "Seed of Chucky" that we actually liked even though it was generally panned by critics!
---
---
Movie Based Horror Games: Ghost Rider



This Ghost Rider game is based on the 2007 Australian movie of the same name which in turn was based on the earlier Marvel comic's character that first appeared in the early 1970s.
---
Movie Based Horror Games: Resident Evil Apocalypse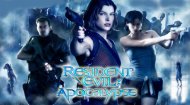 In this Resident Evil game a bioengineering pharmaceutical company called The Umbrella Corporation is responsible for a zombie apocalypse. You take on the role of Alice, a former Umbrella Corporation employee and now enemy, and it's your mission to get together with other survivors to escape Raccoon City alive.
---
Movie Based Horror Games: Nightmare on Elm Street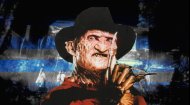 This game is based on the Nightmare on Elm Street movies, but isn't as scary. It's a point and click adventure game where you have to find a way to escape from the house in Elm street before Freddy kills you. Have fun!
---
---
Movie Based Horror Games: The Grudge



This scary movie based horror game is based on the supernatural Japanese thriller by Takashi Shimizu. The aim of the game is to find out why you are alone in this evil house and to see whether you can escape alive.
---
Movie Based Horror Games: The Conjuring



A game based on the 2013 movie about investigations into disturbing events in a Rhode Island farmhouse Not one of our best online movie based horror games, but will still appeal to those who like online puzzles and hidden object games.
---
Movie Based Horror Games: Silent Hill Redemption



The act of redemption is the action of saving or being saved from sin, error, or evil but can you be saved from the atrocious crime you committed when just a young child, the act of killing your own parents nine years ago?
---
---
Movie Based Horror Games: Shaun of the Dead



A bored and directionless electronics shop employee Shaun barely notices one day that his town has been overrun by zombies. In this Shaun of the Dead movie based horror game, batter your way through zombies and corpses to reach the safety of warm beer and snacks at your local pub, the Winchester!
---
Movie Based Horror Games: Alien vs Predator



In this Alien Vs Predator movie based game let the fighting begin underground in Antarctica! Lots of cool actions scenes for you to enjoy.
---
Movie Based Horror Games: Final Destination V



This Final Destination 5 game will appeal to fans of the Final Destination movie franchise which kicked back into gear with its fifth outing this time starting off with a premonition of a collapsing suspension bridge. Simply identify the hidden numbers in various scenes from the movie itself.
---